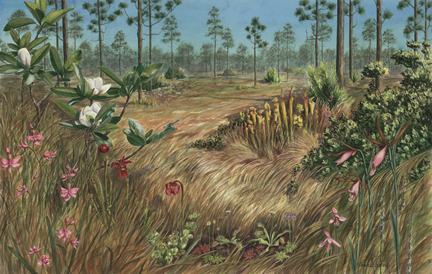 Endemic, The Green Swamp, NC

Original Watercolor painting by Rose Ganucheau
Work: 24" x 39"

The title refers to the Venus Fly Trap, one of the most amazing plants on earth. It is endemic to, that is, only found in, the nutrient-deprived savannah or pocosin [poe ko sin] habitat in coastal Carolina near the mouth of the Cape Fear River. The painting depicts many of the other weird and unique carnivorous plants found in the area, including three types of pitcher plants, butterworts, sundews, and five types of orchids.
Available as a giclee' print in two editions.
Limited Edition: Only 100 prints will be produced at the same size as the original work (24" x 39"). Each print will be signed and numbered by the artist, and is available for $400.00. (plus shipping).
Open Edition This edition is the same quality as the limited edition, but only half the size of the original (area), and is signed by the artist. 17.5" x 28" Price: $190.00. (plus shipping)
Orchids in the Landscape: This is one of a series of paintings of orchids growing in their natural habitat. Through the years, I've experimented with many different types of background, but placing the plants in their natural habitat, although time-consuming, has produced the most satisfying results. The Green Swamp in North Carolina is home to a host of unique plants including terrestrial orchids. Showing an orchid's place among a myriad of other unique plants reminds us again that orchids are just one of many amazing plants in a rapidly shrinking natural world.