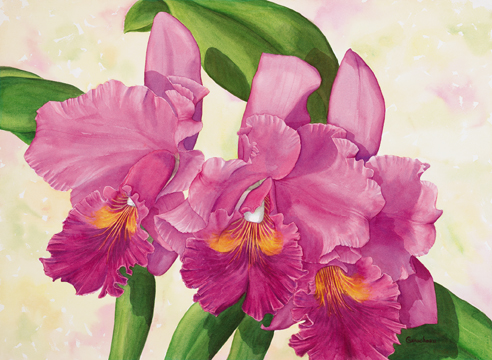 "Orchid Intoxication"; Cattleya Nigrescent 'Troubadore
Limited-Edition Fine Art Print by Rose Ganucheau
18" x 24"
$75.00
Cattleyas have long been the subject of artists. You can almost smell the heady perfume of this Cattleya Nigrescent 'Troubadore'. Even its name alludes to its dark exotic scent.
This original watercolor was reproduced as a limited-edition, Fine Art Print to celebrate the release of Courtney's book, American Cattleyas. The artist was inspired by this phenomenal flowering of the classic corsage orchid, Cattleya Nigrescent 'Troubadoure'. Its luscious color, silky ruffled petals, velvety lip with golden "eyes", and scrumptious perfume remind us how easy it is to become intoxicated by this amazing group of orchids.