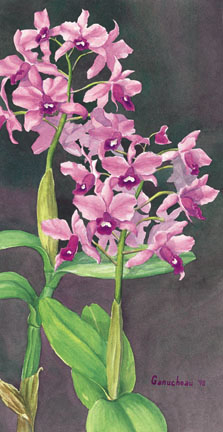 Cattleya bowringiana
Fine art limited-edition print of the original watercolor painting of orchid species Cattleya bowringiana.
11" x 21¼"
Price: $45.00 plus shipping
Many of us think of Cattleyas as "Real Orchids", and seeing a well-flowered bifoliate like Cattleya bowringiana is a sight we don't soon forget. The tall thin composition of this painting emphasizes the height of these giants.